SKU:

SQUAREBOWL

Regular price

$ 490.00 USD

Regular price

Sale price

$ 490.00 USD

Unit price

per

Sale

Sold out
ONLY FEW LEFT IN STOCK, ORDER NOW!
This porcelain Imari-yaki square bowl from the late Edo period, is in the Nishiki, or "brocade"-style of porcelain, characterized by the use of many colors of paint over the white glaze. This particular piece features breathtaking hand-painted designs in red, green, yellow, blue and gold. 

The varied motifs include a plum tree, iris flowers, cranes, and Japanese mythical creatures. 
With its detailed, charming scenery, this bowl is perfect as a celebratory present or as a good-luck gift for you and your family that can be passed down as an heirloom. This would work wonderfully as a small fruit bowl, or for serving food when entertaining.

Details & Care:
Date: 1852
Dimensions: 16 x 7 cm (6.3 x 2.7 inches)
As this is a handmade antique item, please understand there may be some minor imperfections, but overall this bowl is in great condition.
Hand wash only.
Do not microwave.
Handmade in Japan.
Final Sale (not eligible for returns or exchanges)
Share
As we ship from Kyoto, our products may be subject to taxes & customs fees in the country of delivery.
View full details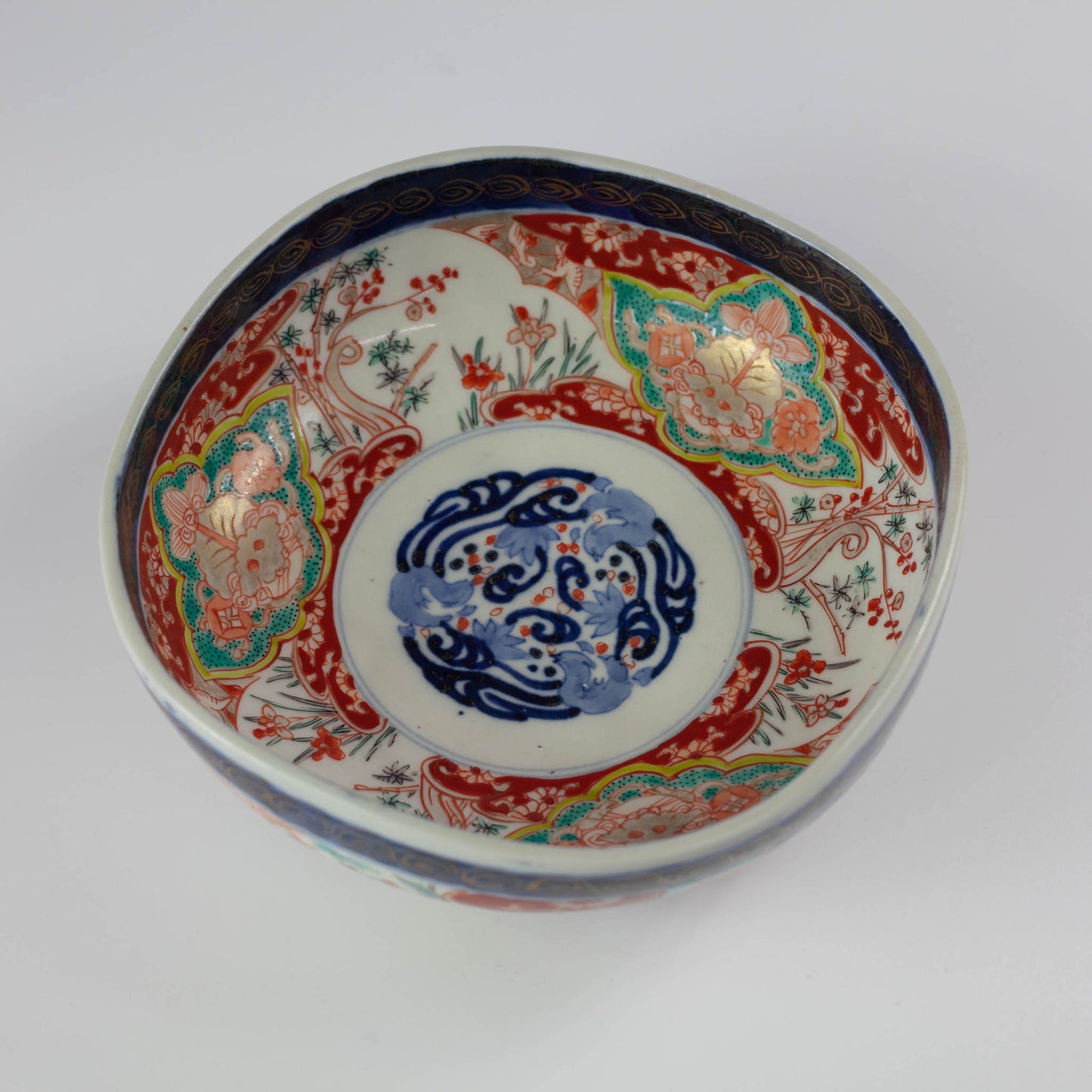 Taxes & Customs Fees
As our products are shipped from Japan they may be subject to 
taxes and to customs fees
 in the country of delivery. These costs are the
customer's responsibility
. 
For our customers in the USA:
Most packages with a declared value that is under $2000 USD will be cleared without any fees.
For our customers in Australia: 
Orders below $1000 AUD are regarded as 'low value imports' by Australian customs. As of 01 July 2018, customs duties may apply to any goods imported from overseas by consumers in Australia. For more information please visit the Australian customs website. 
For our customers in Canada: 
Orders above $20 CAN require that you pay the applicable duties and the GST. For more information please visit the Canadian customs website.
For our customers in the EU:
From 1 July 2021, import VAT is payable on all goods entering the EU, irrespective of their value. For goods with a value of more than €150 you will have to pay Customs Duty in addition to import VAT. The customs value on which Customs Duty is calculated is the cost of the goods plus transport (including postage), any insurance and any handling charges to deliver the goods to the EU. The rate of Customs Duty that applies depends on the goods you import.
 Carrier handling fees are typically $10 to $20.
To minimize fees, we recommend selecting the ePacket shipping method and not the Express Shipping Method.

External links:
Douanes Belge
-
Douanes Suisse
-
Germany, Zoll
-
UK customs
,
Revenue (Irish Tax and Customs)
We understand that custom fees are worrying for some of you. We hope that you are reassured by the fact that, when buying on Bento&co, you really are ordering direct from Japan- getting authentic and original Japanese items that are not easily found anywhere else.
For Express Shipping: FedEx, UPS and DHL usually send an invoice a few days after delivery where as EMS (JP Post shipped, delivered by your National Post) generally charges the required sum at delivery. 
For Registered & Economy Shipping: Your national carrier will generally bill you when applicable.
The Tradition Collection
A premium collection from Bento&co unlike any before, we've handpicked a selection of gorgeous Japanese antique tableware from Kyoto that will allow you to experience the beauty of traditional Japan in your own home. Whether displayed in your house, or, as we would recommend, enjoyed in your daily life, these one-of-a-kind treasures will transport you to a Japan of long ago.
Bento&co is officially licensed by Kyoto prefecture to sell antiques. License number: 611242230009
A piece of living history
Selected by one of Kyoto's top antique dealers
Ships Free from Kyoto, Japan (Tracked and Insured)
Guaranteed one-of-a-kind antique.
Discover more from the Tradition Collection