SKU:

YH8968

Regular price

$ 21.00 USD

Regular price

Sale price

$ 21.00 USD

Unit price

per

Sale

Sold out
IN STOCK AND READY TO SHIP.
Get it between -
Our authentic Oyako Nabe Pan is a classic Japanese pan with a wooden vertical handle, specifically designed to make oyakodon (short for "oyako donburi," a rice bowl topped with chicken and onions sautéed in egg and sweet sauce. You can also fry chicken or pork beforehand and use this pan to make crunchy katsudon!

NOTE: The matching lid for this pan is sold separately
What we love about it:
The vertical handle allows you to effortlessly slide the ingredients directly onto a bowl of rice and also saves room on a crowded stove. 
The handle also screws off for easy storage. 
Compatible with all stovetops, including induction.
Check out our blog to see how to use this pan.
Details:

Dimensions: 16cm (6.2") in diameter
Materials: Stainless steel pan with natural wood handle
Compatible with any type of stove, including induction.
Made in Japan
Care:
Not dishwasher safe. Please hand wash and dry with a soft cloth, allowing handle to air dry completely before storing.
To prevent rusting, remove food from pan after cooking (salt can cause stainless steel to rust). Do not store in damp places.
Do not use pan to stir fry or saute as it may warp, or change color, the food may burn or the oil may ignite.
To prevent burning, do not use overly high heat. 

To remove burn bits of food, add water with baking soda (or vinegar) and boil to soften burnt bits. Then use a sponge to wash.
Do not submerge wooden handle in water but simply wipe clean with a damp cloth as needed and dry well.
Share
As we ship from Kyoto, our products may be subject to taxes & customs fees in the country of delivery.
View full details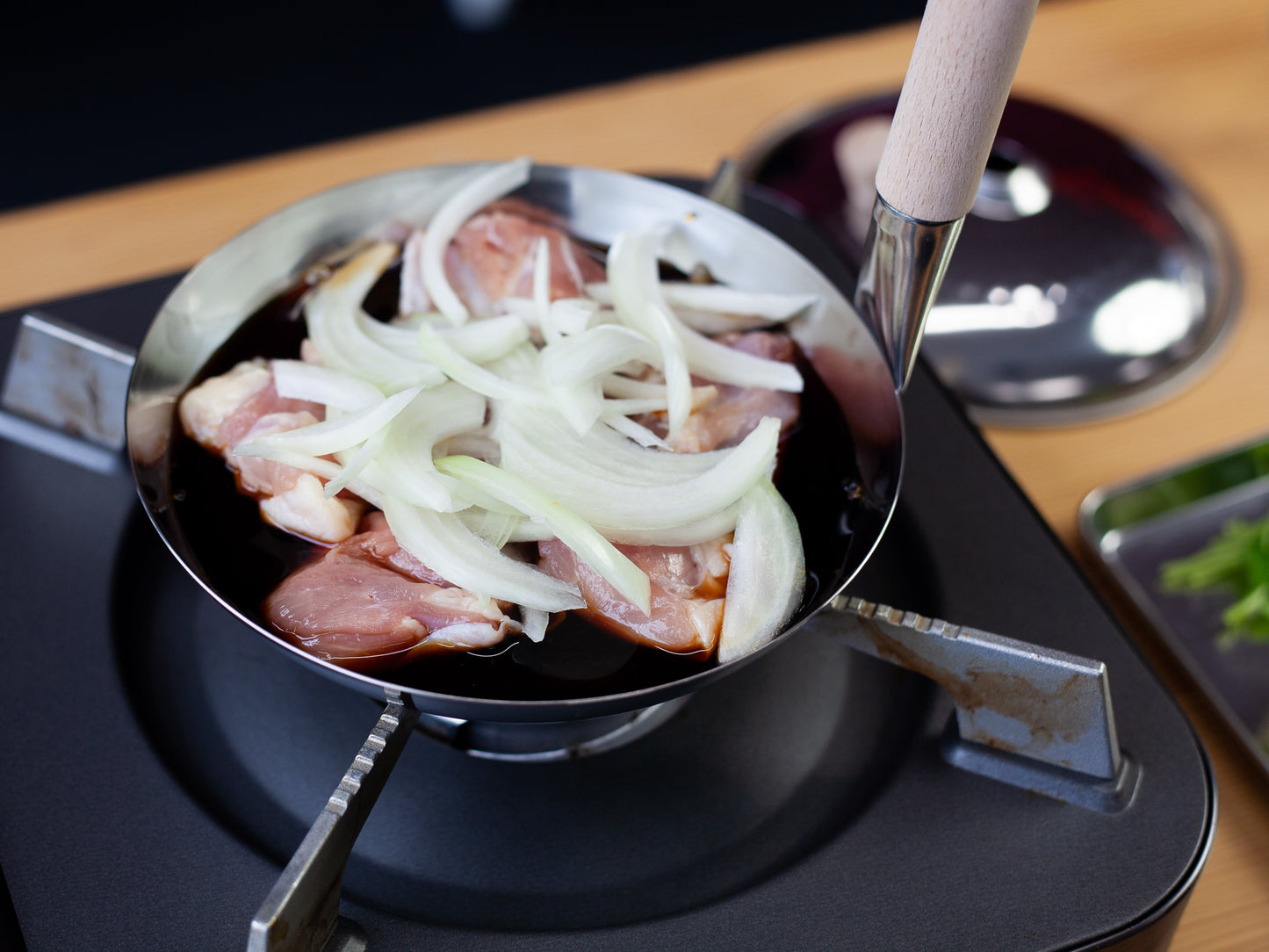 Taxes & Customs Fees
As our products are shipped from Japan they may be subject to 
taxes and to customs fees
 in the country of delivery. These costs are the
customer's responsibility
. 
For our customers in the USA:
Most packages with a declared value that is under $2000 USD will be cleared without any fees.
For our customers in Australia: 
Orders below $1000 AUD are regarded as 'low value imports' by Australian customs. As of 01 July 2018, customs duties may apply to any goods imported from overseas by consumers in Australia. For more information please visit the Australian customs website. 
For our customers in Canada: 
Orders above $20 CAN require that you pay the applicable duties and the GST. For more information please visit the Canadian customs website.
For our customers in the EU:
From 1 July 2021, import VAT is payable on all goods entering the EU, irrespective of their value. For goods with a value of more than €150 you will have to pay Customs Duty in addition to import VAT. The customs value on which Customs Duty is calculated is the cost of the goods plus transport (including postage), any insurance and any handling charges to deliver the goods to the EU. The rate of Customs Duty that applies depends on the goods you import.
 Carrier handling fees are typically $10 to $20.
To minimize fees, we recommend selecting the ePacket shipping method and not the Express Shipping Method.

External links:
Douanes Belge
-
Douanes Suisse
-
Germany, Zoll
-
UK customs
,
Revenue (Irish Tax and Customs)
We understand that custom fees are worrying for some of you. We hope that you are reassured by the fact that, when buying on Bento&co, you really are ordering direct from Japan- getting authentic and original Japanese items that are not easily found anywhere else.
For Express Shipping: FedEx, UPS and DHL usually send an invoice a few days after delivery where as EMS (JP Post shipped, delivered by your National Post) generally charges the required sum at delivery. 
For Registered & Economy Shipping: Your national carrier will generally bill you when applicable.