Prices Ex. VAT
Click here for more details about taxes, and custom fees.
Usually dispatched within 24 / 48 hours (business days).
Overview
Takoyaki ready and time to enjoy it? To present it in the best possible way you need these saucers - in Japan this is the authentic way to plate Takoyaki - now you can too!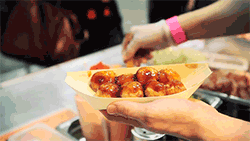 Product Description 
This Takoyaki Saucer set includes 10 plates perfect for presenting your Takoyaki in an authentic way. In fact, in Japan, we always eat Takoyaki out of these plates! 
Originally developed as one time use plates for sales of Takoyaki by street vendors these have now become part of the Takoyaki experience - Enjoy your out of it too! 
Product Details 
Best way to enjoy tasty Takoyaki! 

Dimensions: 26 x 11 x 5,3 cm
Materials: Natural wood

Made in China